Our pastoral/formation module for Singles, Dating, Engaged and Married couples, centers on "Discernment," "Accompaniment," and "Mission." Pope Francis in his Pontificate and Apostolic Exhortation: "Amoris Laetitia" proposes a "new pastoral methods" for the care of families. "The Church has always seek to bring her children to the fullness of their vocation. The call for New Evangelization is about adopting "a new method" and a "different language," "adequate and suitable" to ministering to the needs of the people of God in our age.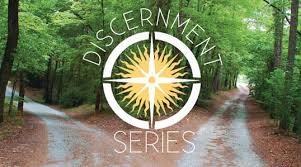 M

arriage is a vocation, inasmuch as it is a response to a specific call to experience conjugal love as an imperfect sign of the love between Christ and the Church (Amoris Laetitia). Consequently, the decision to marry and to have a family ought to be the fruit of a process of vocational discernment." Marriage as a vocation implies more than a simple choice for a particular mate, but it involves a process of discovery. In order to discover who my possible mate could be, I must first and foremost discover who I am and who I am called by God to become. As soon as I discover myself, then I can confidently discover my soul mate.
In our series "Discovering Love with Clarity," we offer singles, dating and engaged couples the opportunity to intentionally engage themselves in a journey (spiritual, emotional, relational, social etc.) that enable them to come in alignment with the divine plan for them. It is a journey that begins with the individual, which creates a self-awareness and the sense of purpose in life. It gives them the opportunity to pause and ask those questions they would have never asked about their lives and about with whom the Lord wants them to spend the rest of their life.
To join other discerners or to get more information about relationship and love discernment please click here
Accompaniment/Enrichment:
Married couples sometimes feel abandoned by the Church; because once the parish has conducted marriage preparation and helped couples celebrate their wedding day," (From USCCB, "Follow the Way of Love: A Pastoral Message to Families, 1994) the rest is for the couples to figure out. Married couples need the involvement and support of their pastors and faith community and should not be left alone to succeed or fail without the help from their Churches.
Pastoral accompaniment needs to go beyond the actual celebration of the sacrament of marriage (Familiaris Consortio, Part III). Pope Francis in "Amoris Laetitia," rightly pointed out, "the initial years of marriage are a vital and sensitive period during which couples become more aware of the challenges and meaning of married life." He therefore urges: "couples should be helped to realize that surmounting a crisis need not weaken their relationship; instead, it can improve, settle and mature the wine of their union."
We provide marriage accompaniment through enrichment programs such as; Called to Love series, Agonies of Love series, The Gift of Sex series, Couples Retreats, Couples Adore Nights, Spiritual/Social Date Nights, Couples Bible Study etc. These events offer the couples the opportunities to deepen their love and intimacy.
We as well provide spiritual direction for couples whose marriage is in crisis or those undergoing separation or divorce.
Marriage is for mission and mission is about witnessing. Married couples are called to witness. Fruitful marriage does not only consist of having a big family (numerous kids, many years of marriage, good houses, huge family bank account), but above all, consist in sharing the Gospel of Marriage with other married couples. Sharing your marriage testimonies can encourage some struggling couples to continue to thrive. Remember, there is no perfect marriage, so don't wait until you reach perfection before you can share the gospel of marriage with others.
Have you been longing to go on a mission? To a far distance countries? You know what? God is calling you to begin from where you are (your parish). It is about being faithful in little things: "If you are faithful in little things, you will be faithful in large ones" (Luke 16:10).
As a couple, have you thought of becoming a marriage missionary in your parish or diocese? We will provide you the tools, strategies and formation and you will be commissioned and sent by the Holy Spirit to bring abundant harvest to the Kingdom of God. God does not look for the qualified but for the ones who are available.
To learn more on becoming a couple marriage missionary please click here