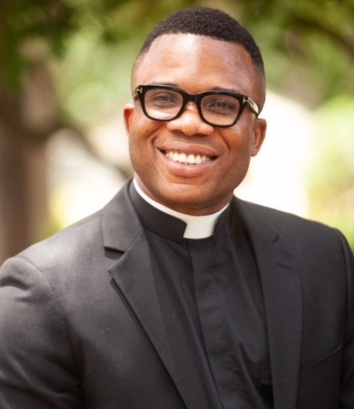 Founder: Emmaus School of Love.
Rev. Mr. Kingsley Nwoko, STL., is an ordained deacon for the Archdiocese of Galveston-Houston. Deacon Kingsley is a graduate of Pontifical John Paul II Institute for Studies on Marriage and Family in Vatican City, Rome. He holds a Pontifical License on marriage and family issues. Rev. Kingsley is a PhD student at the university of Freiburg Germany. His passion is to support singles, dating, engaged couples with discernment for their vocation to married life, and to provide marriage renewal enrichment programs to married couples of all ages. Kingsley is devoted to spreading the fire of love.
He is passionate when talking about love, and he believes in taking on the challenges facing married couples and families by conquering them through the works of love. He also speaks on sexuality and marital conflict resolution.
Currently, deacon Kingsley is a full-time staff at St. Charles Borromeo Catholic Church, in the Archdiocese of Galveston-Houston.